The Streamer Module
The Streamer module is used to send a video stream over a local, wide or global network. Right click the module to open its popup menu. The following additional menu entries are available.
Start
Starts streaming. Note that due to stream setup and buffering it may take up to 30 seconds for the video stream to becomes visible on the server. Streaming starts when the tally turns red.
Stop
Stops streaming. Due to buffering, it is good practice to stream at least 30 seconds extra before stopping the stream. This ensures all viewers have seen the end of the streamed video when watching via a server.
Destination > Facebook Live
Presets the module to stream to Facebook, the only requirement is to enter the Stream address.
Destination > Multicast
Sets up a multicast stream. Requires the IP address and port to be entered (IP:Port). Multicast uses UDP protocol with MPEG-2 Transport Stream container and H264 video and AAC audio codec.
Destination > RTMP Server
Sets up an RTMP stream for a flash media server. Requires the Server Username, Password and Stream to be entered. Some services only require the stream address, in which case username and password should be left blank. RTMP streaming uses a flash video container (FLV) and H264 video and AAC audio codec.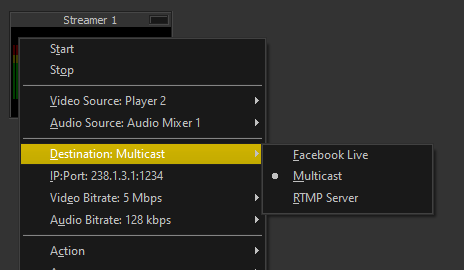 Video Bitrate
The target video bitrate in Mbps.
Audio Bitrate
The target audio bitrate in kbps.
Properties > Timer
When checked (default) the streaming time is shown in the display (OSD).